Ergologistic Healthcare Solutions from Dane Technologies
According to the most recent survey, 51% of U.S. nurses believe that their profession is detrimental to their physical health. The BLS reports that nurses suffer more lost-time work related injuries every year than workers in construction or manufacturing. Nearly half of these injuries (48%) are due to overexertion and bodily reaction – strain-related injuries that are often related to patient handling.
The PowerPal 1000 and the WheelChair Mover® are power assist devices, purpose-built to deliver ergonomic solutions to reduce strain-related injuries in the healthcare environment. With up to 7,000 lb of towing capacity, the PowerPal 1000 is designed to easily and quietly navigate the hallways of hospitals and professional buildings, towing case carts, heavy equipment, food trolleys, and other supplies. The WheelChair Mover® is ergonomically designed to quietly and efficiently transport patients up to 750 lb on carpet and up ramps with no strain to the operator. Caring for patients can be stressful. We believe that providing high quality healthcare shouldn't result in stress related injuries to your patients or your team.
---
[cubeportfolio id="31″]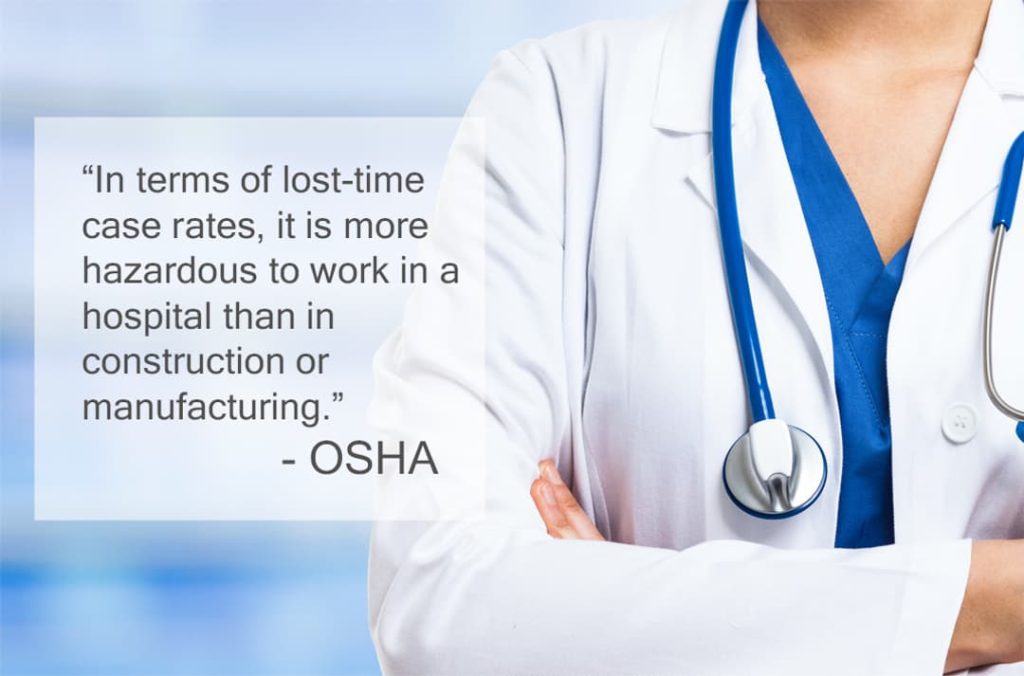 Strategic Challenges for Healthcare
---
Caring for your patients can be stressful, but providing high quality healthcare shouldn't result in stress related injuries…
Healthcare professionals are familiar with stress, and unfortunately job related stress injuries. An estimated 12% of nurses leave their profession every year due to back injuries, and more than 50% suffer chronic back pain. For hospital staff, nearly half (48%) of the occupational injuries that result in days away from work are caused by overexertion and bodily reaction – strain related injuries which are most often caused by patient handling and patient transport.
---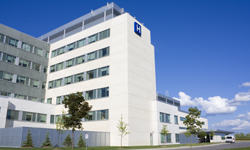 Larger Medical Facilities:
The modern healthcare system is trending towards larger hospital facilities, increased service integration, and higher patient turnover. Healthcare employees are required to move patients, equipment, and supplies more frequently and across greater distances, exposing them to an increased risk of injury and strain. As these risk factors compound, the return on investment from improved safety measures increases dramatically. OSHA estimates a return of $4 to $6 for every $1 invested in workplace injury prevention.
During an 8 hour shift a transport tech at a 600-bed facility will log an average of 14 miles through the hospital – on average about 250 patient transports
51% of nurses believe their job is a strain to their personal health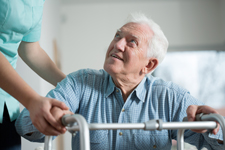 Aging Patient Population
The number of people aged 65 and older is increasing worldwide, and with age comes increased likelihood of reduced mobility and the need for assistance when visiting a healthcare provider. People and patients above age 50 are 1.2-2 times more likely to require treatment for musculoskeletal disorders (MSD's) than those younger than 30. More and more people are working longer, which means more people are at risk for job-related injury than ever before. The increased need for quality healthcare and mobility assistance requires solutions that can decrease risk and rate of injury to healthcare staff while improving the quality of treatment provided to patients.
Rates of Musculoskeletal Disorder (MSD) Increase with Age
| Age Group | Average (MSD) Rates (per 10,000 FTE): |
| --- | --- |
| All Workers | 36.1 |
| Age 45-54* | 41.7 |
| Age 25-34 | 33.0 |
| Age 20-24 | 28.3 |
| Age 16-19 | 19.3 |
Distortion occurs in MSD rates for individuals 55-64 because average retirement age is 58
United States: 43 million Americans aged 65+, projected to increase to 60 million by 2050.
Globally: 534 million people aged 65+, projected to increase to 1.5 billion by 2050.
The likelihood of severe disability is 5% for people aged 15 to 24, 25% for those aged 65 to 69, and 56% for those 80 and above.
---
Aging Workforce/Caregivers
Rates of injury on the job increase with age, and the average age of healthcare workers is increasing. The average nurse in the United States is over 50, and by 2020 nearly half of all nurses will be working at traditional retirement age. Members of healthcare staff are required to move heavy patients, equipment, and supplies through the course of their work, and are being injured on the job twice as often as the average rate for all private industry. Last year alone, healthcare workers experienced 167,150 incidences of lost-work injuries due to musculoskeletal disorders. Healthcare leaders looking to the future understand that protecting their healthcare team is essential to providing quality healthcare.
On average, workers aged 55+ require twice as much time to recover from injuries resulting in days away from work as those younger than 34
Healthcare and social assistance workers suffered 80,232 lost-time injuries in 2013 due to sprains, strains, and tears from overexerting
The Veteran's Health Administration estimates the cost of replacing a nurse is 100% of a nurse's annual salary ($27,000-$100,000+)
Annual cost of compensation to U.S. healthcare employers due to lost-time injuries: $2 billion
Bariatric Patient Care
Obesity is rising around the world. Over 60 million obese adults in the United States are creating a new challenge for healthcare providers as they seek quality treatment. This growing patient population will define new standards for safe patient care and transport as obesity rates continue to rise. Obese adults age 51+ are at least twice as likely to require mobility assistance in a healthcare setting, and the greatest risk factor for overexertion for healthcare professionals is manual lifting, repositioning, and moving of patients. Providing quality healthcare to bariatric patients while caring for the safety of staff and personnel will require adopting new technologies for safe patient transfer and transport.
According to the CDC, more than 20 percent of the U.S. adult population (more than 60 million people) now has a BMI of 30 or greater, which classifies them as obese
Safe patient handling programs must be adapted to accommodate individuals who are obese
One in four older adults is obese, and obese individuals age 51+ are at least twice as likely to require mobility assistance
---

Safer Workplace, Better Care
Caregivers and patients face many related hazards in a healthcare environment. Caregiver fatigue, injury, and stress are tied to a higher risk of medication errors and patient infections. Manual patient transport and transfer can cause caregiver injury and also put patients at risk of falls, fractures, bruises, and skin tears. Fear of injury or reluctance to move patients leads to a stressful work environment, and patients who perceive this caregiver concern report increased stress, discomfort and fear.
75% of nurses believe that unsafe working conditions interfere with their ability to deliver quality patient care
Patients, especially bariatric patients, who are handled with lifting equipment report an improved feeling of dignity
Patients report greater satisfaction where staff is not suffering fatigue or burnout
---
WheelChair Mover® Mover
Designed by hospital safety experts for use by hospital personnel, the WheelChair Mover® fits all standard wheelchair sizes and models in any healthcare facility, easily transporting patients up to 750 lb (340 kg) safely and securely around hallways, in elevators, and up and down ramps while reducing potential injury or physical strain to the caregiver.
[cubeportfolio id="38″]
WheelChair Mover®
---
The first and only FDA-approved power assist wheelchair solution, the WheelChair Mover® enables personnel to move individuals up to 750 lb (340 kg) effortlessly up ramps and along carpeted walkways, virtually eliminating strain and risk of injury. It attaches to a broad range of wheelchairs and patient transport chairs. The WheelChair Mover® is easy to use and improves employee safety, efficiency and morale anywhere disabled guests are in need of assistance.
Quick Facts:
---
UL-Certified to 583 ES

FDA Approved

Operating environment within narrow hallways

750 lb (340 kg) Capacity

Ergonomic Design Prevents Injury

Advanced Safety Features Including Automatic Dynamic Braking & Throttle Safety Control
View WheelChair Mover® Mover
---
PowerPal 1000
The UL Certified PowerPal 1000 is designed for moving medical equipment and supplies through hospitals. Compact ergonomic design and tiller steering allow nearly everyone to case carts, hospitality and service equipment, medical equipment, food trolleys, and other professional supplies safely and easily. A wide variety of hitching options make moving almost any wheeled cart or container possible.
[cubeportfolio id="22″]
PowerPal 1000 Description
---
The PowerPal 1000 is designed to protect healthcare professionals from injury while moving heavy medical equipment and materials. The PowerPal 1000 combines a 0.6 HP motor on a highly maneuverable platform, whisper-quiet battery-powered drive, and ergonomic tiller steering to produce a compact and highly maneuverable power assist solution that easily navigates hallways, and tight spaces while preventing you from injury.
Quick Facts:
---
UL-Certified to 583 ES

7,000 lb (3,178 kg) capacity

Operating environment within narrow hallways

Non-industrial integrate into professional environment

Ergonomic Throttle

Advanced Safety Features Including Automatic Dynamic Braking & Throttle Safety Control
View PowerPal 1000