Power Assist Technology for Commercial Cleaning
Large industrial, professional, and high-traffic spaces require fast clean-up response times and a workforce capable of managing multiple aspects of facilities maintenance. Introducing the QuicKLEEN, an ergologistic, multipurpose, ride-on janitorial cart. Our multi-modal cleaning platform allows the user dry mop, broom and vacuum large areas, collect trash, distribute cleaning supplies, and carry a mop and bucket. Innovative design features allow these tasks to be completed with unprecedented speed and efficiency. The QuicKLEEN is designed for use in airports and other transportation terminals, gymnasiums, warehouses, factories, schools, malls, and retail outlets. Capable of delivering 50% productivity returns in the commercial cleaning space, the QuicKLEEN enables your workforce to manage multiple tasks quickly and efficiently, while virtually eliminating strain-related injuries, and expanding your labor pool.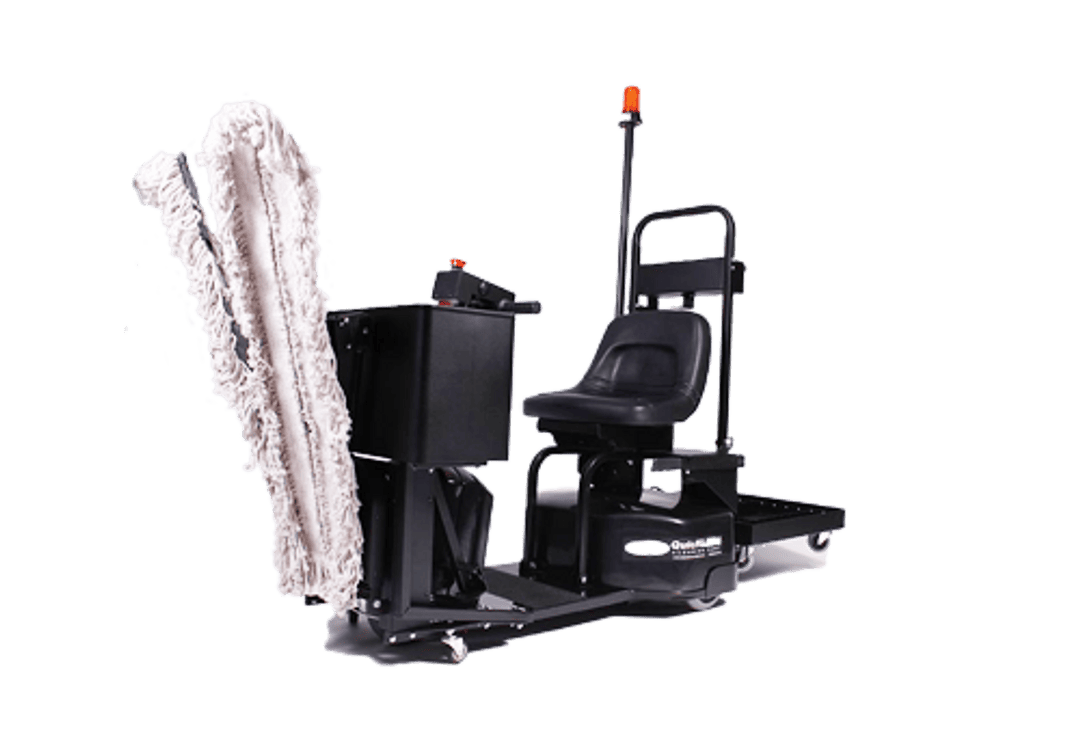 Efficient & Ergonomic
69 in Twin Torsion-Coupled Dry Mop Arms Allow for Large Mopping Area & Debris Pickup–Easily Close & Raise V-Mop or Broom with Foot Pedals

Safely Transport Restocking Supplies to Multiple Locations

Advanced Safety Features Including Automatic Dynamic Braking & Anti-Tip Technology

Easily Move Individual Trash to Collection Point
Features
Quick-Detach Rolling Handcart Moves Smoothly to Floor Drain to Dump Mop Bucket–Raised off Floor During Transport

Adjustable Trailer Hitch Allows for Connection of Wide Variety of Carts

Multiple V-Mop and Brush Attachments Change Easily with No-Touch Latching
---
Highest Quality
Powerful 24 VAC 0.5 hp Motor, 800 lb Capacity

(2) 12 V (35 Ah) Maintenance-Free AGM Batteries

On-Board UL-Certified SmartCharger

Plug & Play Electronics for Low Maintenance & Easy Service

1 in Welded Steel Frame & Steel Body Pan

Long Life Frame-Mounted Motor

High Impact/Rust Resistant ABS Plastic Body with Korad Finish

Patented Automatic Dynamic Braking

Wig-Wag Throttle Control

Advanced Safety Features
Exceptional Support
Dane consistently rated in top 5% of preferred vendors for outstanding service

On-board Self Diagnostics System Reduces Service Calls

24/7 Service & Support Dispatch Team

Extensive Worldwide Network of Trained Service Providers

95% Same-Day Parts Shipping

"Birth Certificate" Links Records with Serial No. for Fast Unit ID

Bar-Coded Components Linked to Serial No. for Fast Part ID & Warranty Fulfillment

Comprehensive Maintenance Management Program

Complementary Employee Training & Best Practices Program
Greatest ROI
Increased Productivity, Decreased Risk of Strain-Related Injury to Employees

Unnecessary Service Calls Eliminated

Greatest Uptime for Your QuicKLEEN

QuicKLEEN Consistently in Use for 8+ Years

10 Yr Frame Warranty, 2 Yr Limited Warranty & 1 Yr Labor

Low Life Cycle Cost
---
Proven Experience: Key to Successful Implementation
Industry leading quality doesn't stop with the design of our solutions – it extends to product rollout and post-sale support. Whether you own one store or thousands, when you partner with us, we are putting 20 years of experience in tens of thousands of locations to work for you. We work together with you to understand the unique requirements of every site and collaboratively design your rollout strategy. With every sale we provide training materials, certified operators program and best practices guidelines to ensure your team achieves your productivity and safety goals.

Contact Us
Please fill out a form below to contact a Dane representative.
View More Solutions
| Item | Value | Description |
| --- | --- | --- |
| Capacity Rating | 800 lbs (340 kg) | Allows user to tow heavy carts, load trash, transport cleaning supplies, and ride at the same time |
| Motor | 0.5 hp, 24V Mounted Motor | Mounted motor allows for greatest load capacity, increased life span, & low, easy maintenance |
| Battery | (2) 12V Deep Cycle, 35 amp-hr sealed, maintenance free batteries | 24V Capacity supplies enough power to extend life of motor & length of single-charge use |
| Single Charge Battery Life | 10 hr w/250lb payload | Length of battery life sufficient for full day of continuous-use operation |
| Charger | 120 VAC, 24 VDC, 12 amp Max | SmartCharger charges batteries in less time (4-5 hr from full discharge); increases life of batteries |
| Speed | Programmable: 0-6 mph | Optimize speed of cart to size of workplace |
| Automatic Dynamic Braking | Unit automatically declerates when throttle released or rider stands, automatic parking brake when unit is at rest | Prevents rolling, accidental collision |
| Frame | 1″ welded steel tube w/full steel body pan, Integral Rear Bumper | Bumper prevents damage to persons & property |
| Body | Steel body pan; molded high impact ABS shell with korad finish | Durable body resists wear; internal components protected |
| Tires | Non-marking flat free 8″ solid | Smoothest ride, lowest maintenance, lowest cost |
| Seat | Heavy duty vinyl, padded | Seat is comfortable & durable |
| Attachments | Multiple cleaning attachments available | Maximizes utility, delivers outstanding ROI; see accessories for details |
| Item | Value | Description |
| --- | --- | --- |
| Certifications | SmartCharger: UL standard 1564 | Highest industry standards for battery & radio component compliance |
| Patented Automatic Dynamic Braking | Automatically decelerates SKoot when not driving forward | Significantly reduces risk of accidental collision & injury |
| Automatic Parking Brake | Automatically engages when unit is at rest | Prevents slippage, rolling |
| Warning Horn | Dual actuation | Alerts those nearby |
| Battery Level Indicator | Monitors battery charge | Allows operator to monitor battery charge level |
| Protective Handlebar Design | Ergonomic handles reduce risk of wrist injury while handlebars protect hands & operational key switch | Reduces risk of injury, damage to throttle, & inadvertent operation |
| Anti-Tip Wheels | Frame-mounted casters | Extreme stability–reduces risk of tipping |