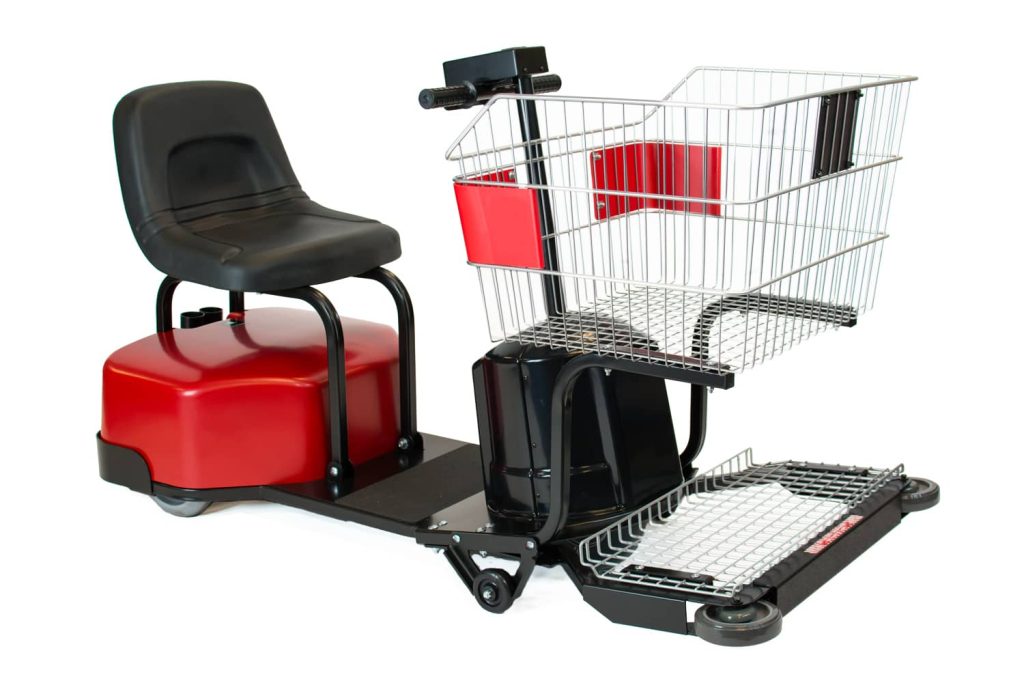 A Power Shopping Cart That Exceeds Expectations
The SmartKART was developed at the request of our retail partners looking for an electric shopping cart that reflected top brand quality and delivered an exceptional guest experience. The SmartKART is a high-performance motorized shopping scooter designed to deliver superior shopping comfort to store guests; while maximizing value to the retailer. Incorporating the most requested user features, and state of the art safety technology the SmartKART is a power shopping solution that exceeds expectations even in the most demanding retail environments. Setting a new standard with an unprecedented total load rating of 800 lb (360kg), a 30 in. (76cm) turning radius, extreme stability anti-tip technology, and a wide variety of configurable options the SmartKART is the mobility scooter of choice for the ultimate power shopping experience.
---
Earning Guest Loyalty
In the competitive retail environment, one of the most important factors contributing to brand loyalty is the guest shopping experience. Retailers looking to the future see a global population with an aging demographic and increasing rates of obesity and disability. For this growing sector of retail guests, the availability of quality assisted mobility options will be an increasingly critical point of brand differentiation. In the United States alone, 50 million disabled people represent $220 billion of annual discretionary spending. Our clients are increasing their market share in this expanding sector by caring for their guests with the SmartKART, the premier solution for assisted mobility shoppings.
---
Custom Options Available: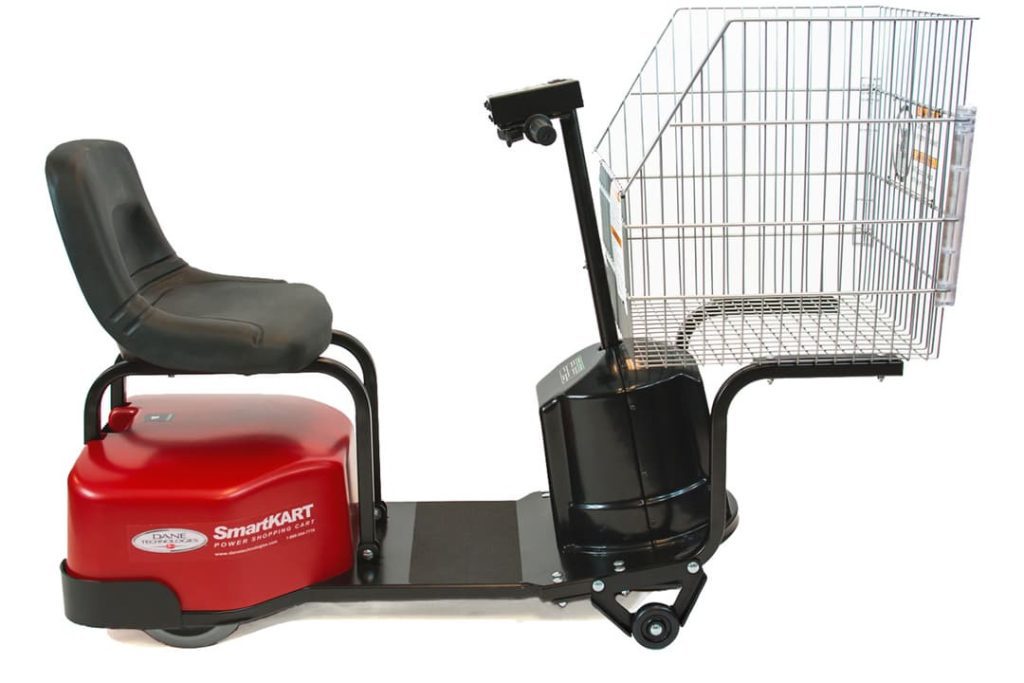 SmartKART XD12
Large Basket–9,380 cu in. (153,711 cu cm)
Custom Signage
SmartKART XD12
Standard Basket Size–6,400 cu in. (104,877 cu cm)
Bottom-of-Basket Wire Tray
Crutch and Cane Holder
Custom Signage
---
State of the Art Safety
Dane's mobility equipment is trusted in hospitals around the world to protect patients and healthcare professionals from transport risks associated with impaired movement and disability. We applied our expertise in ergonomic medical transportation and safety to design the SmartKART with the highest weight capacity and the best safety features of any mobility scooter on the market. The SmartKART provides shopping guests with unparalleled security and comfort while maneuvering easily through a store.
---
Highest Quality
Powerful 24 VAC 0.5 HP Motor, 800 lb Capacity

(2) 12 V (35 Ah) Maintenance-Free AGM Batteries

On-Board UL-Certified 4-12 amp SmartCharger

Plug & Play Electronics for Low Maintenance & Easy Service

1 in. Welded Steel Frame & Floor

Long Life Motor

High Impact/Rust Free ABS Plastic Cover with Korad Finish

Patented Automatic Dynamic Braking

Wig-Wag Throttle Control

Advanced Safety Features
Exceptional Support
Dane consistently rated in top 5% of preferred vendors for outstanding service

On-board Self Diagnostics System Reduces Service Calls

24/7 Service & Support Dispatch Team

Extensive Worldwide Network of Trained Service Providers

95% Same-Day Parts Shipping

"Birth Certificate" Links Records with Serial No. for Fast Unit ID & Efficient Support

Bar-Coded Components Linked to Serial No. for Fast Part ID & Warranty Fulfillment

Comprehensive Maintenance Management Program
Greatest ROI
Premium Power Shopping Experience for Guests

Unnecessary Service Calls Eliminated

Greatest Uptime for Your SmartKART

SmartKARTs Consistently in Use for 8+ Years

10 Yr Frame Warranty

Low Life Cycle Cost
---
Proven Experience: Key to Successful Implementation
Industry leading quality doesn't stop with the design of our solutions–it extends to product rollout and post-sale support. Whether you own one store or thousands, when you partner with us, we are putting 20 years of experience in tens of thousands of locations to work for you. We work together with you to understand the unique requirements of every site and collaboratively design your rollout strategy. With every sale we provide training materials, certified operators program and best practices guidelines to ensure your team achieves your productivity and safety goals.

Contact Us
Please fill out a form below to contact a Dane representative.
[foogallery id="3204″]
View More Solutions
View SKoot
| Item | Value | Description |
| --- | --- | --- |
| Capacity Rating | 800 lb: 600 lb rider capacity, 200 lb basket capacity | Highest capacity in class |
| Motor | 0.5 HP 24V frame mounted motor | Allows speeds up to 2.3 mph (3.7 kph), maintains constant speed with full payload, increased life span, & low maintenance |
| Drive | Geared whisper quiet front wheel drive | 30 in. (76 cm) turning radius for best in class control and maneuverability |
| Frame | 1 in. (2.5 cm) Heavy duty welded steel tube frame & floor | 10 Yr Frame warranty |
| Batteries | (2) 12V AGM, 35 or 55 A-h Sealed maintenance free | 7 hr Continuous Use (250 lb) |
| Charger | On board universal 4 Amp AC input Smart Charger–UL/CSA/CE | Automatic shut off, maintenance charge mode, & battery life maximizer, charge with standard outlet |
| Automatic Dynamic Braking & Automatic Parking Brake | Unit automatically decelerates when throttle released or rider stands, automatic parking brake. | Prevents rolling, accidental collision |
| Body | Steel body pan; molded high impact ABS shell with korad finish | Durable body resists wear; internal components protected |
| Electronics | Plug & play modular electronics, conformal coated molex connectors | Easy service & modular repairs; protects against moisture and vibration; easy access to connectors, spades, and lugs; No wire nuts or soldered connections for easy maintenance |
| On Board Smart Self-Diagnostics System | Coded maintenance & service signals flash on instrument panel | Eliminates unnecessary service trips & ensures the most uptime for your SmartKART |
| Seat | 18 in. PVC-free armless* puncture-resistant, heavy duty vinyl, padded seat *arm rest optional | Seat is comfortable & durable |
| Basket | Standard: 6,400 cubic in. w/ corner bumpers; Optional Large: 9,380 cu in. | High capacity basket maximizes purchases |
| Tires | (3) 8 in. (20.3 cm) solid tires made with floor friendly no-mar rubber, with anti-tip casters | Durable Low Maintenance, low impact, added stability and security |
| Item | Description | Value |
| --- | --- | --- |
| Certifications | Smart Charger: UL Standard 1564 | Highest industry standards for battery component compliance |
| Emergency Shut Off | Intuitive placement, robust design | Allow operator to turn off unit quickly in case of emergency |
| Automatic Dynamic Braking | Automatically decelerates SmartKART when not driving forward | Significantly reduces risk of accidental collision & injury especially when at full load capacity |
| Automatic Parking Brake | Automatically engages when unit is at rest | Enhanced security |
| Programmable Speed | Forward: 0 – 3.0 mph (0 – 1.6 kph); Reverse: 0 – 1.0 mph, (0 – 3.2 kph) | Pre-set, programmable speed limit ensures predictable control for operator |
| Seat Safety Sensor | Integrated in seat bottom | SmartKART only drives forward when shopper is securely seated in seat |
| Protected Electronics | Fully protected & enclosed electronics, anti static wire | Rear cover safety latch protects electronics |
| Motor & Control Reset Circuit Breaker | Self resetting circuit breaker | Prevents system overload |
| Controller Interlock | Engages when unit is charging | Prevents drive away while charging |
| Anti-Tip Technology | Frame mounted wheels for extreme stability | Widest wheelbase on the market; reduces risk of tipping for worry free reach |
| Warning Horn | Dual actuation | Alerts those nearby |
| Battery Level Indicator | Monitors battery charge | Allows operator to monitor battery charge level |
| Ergonomic Throttle | Easy to use wig-wag design | Ergonomic, reduces operator strain, damage to throttle, & inadvertent operation |
| Freewheel Release Lever | Allows unit to be moved without power | Ideal for moving SmartKART when service is required, prevents stranding |
| Signage | Multilingual | Safe operating instructions for all users |
Available Accessories & Custom Options:
Large Basket: 9,380 cu in. (153,711 cu cm)
Crutch & Cane Holder
Safety Flag & Holder
Bottom-of-Basket Wire Tray for Additional Purchases
Optional Vinyl-Padded Armrest & Heavy Duty, Padded Seat
20 in. Seat
| Specification | SmartKART | SmartKART XD12 |
| --- | --- | --- |
| Motor | 0.5 HP 24V Mounted Motor | 0.5 HP 24V Mounted Motor |
| Speed | Programmable: 0-3.7 kph (0-2.3 mph) | Programmable: 0-3.7 kph (0-2.3 mph) |
| Braking | Automatic Dynamic Braking engages when throttle is released or rider stands. Automatic Parking Brake when unit is at rest | Automatic Dynamic Braking engages when throttle is released or rider stands. Automatic Parking Brake when unit is at rest |
| Weight Capacity | 800 lb (360 kg) | 800 lb (360 kg) |
| Turning Radius | 30 in. (89 cm) | 30 in. (89 cm) |
| Battery | (2) 12V, 35 amp-hr Maintenance-Free Batteries | (2) 12V, 55 amp-hr Maintenance-Free Batteries |
| Battery Charger | On-Board Universal AC Input 4 amp Smart Charger | On-Board Universal AC Input 12 amp Smart Charger |
| Dimensions | 58 in (147cm) Long x 27 in (69cm) Wide x 36 in (91cm) High | 58 in (147cm) Long x 27 in (69cm) Wide x 36 in (91cm) High |
| Frame | 1″ Welded Steel Tube w/Full Steel Body Pan, Integral Rear Bumper | 1″ Welded Steel Tube w/Full Steel Body Pan, Integral Rear Bumper |
| Safety | Automatic Dynamic Braking, Circuit Breaker Overload w/Automatic Reset | Automatic Dynamic Braking, Circuit Breaker Overload w/Automatic Reset |
| Basket | 6,400 cu in (104,877 cu cm) Full Capacity with No Intrusion | 9,380 cu in (153,711 cu cm) Full Capacity with No Intrusion |
| Seat | Heavy-Duty Vinyl, Padded | Heavy-Duty Vinyl, Padded |
| Specification | SmartKART | SKoot |
| --- | --- | --- |
| Motor | 0.5 HP 24V Mounted Motor | 0.33 HP 12V Wheel Hub Motor |
| Speed | Programmable: 0-3.7 kph (0-2.3 mph) | Programmable: 0-3.5 kph (0-2 mph) |
| Braking | Automatic Dynamic Braking engages when throttle is released or rider stands. Automatic Parking Brake when unit is at rest. | Automatic Dynamic Braking engages when throttle is released or rider stands. Automatic Parking Brake when unit is at rest. |
| Weight Capacity | 800 lb (360 kg) | 700 lb (320 kg) |
| Turning Radius | 30 in (76 cm) | 30 in (76 cm) |
| Battery | (2) 12V, 35 amp-hr Maintenance-Free, operates for 10 hr w/250 lb payload | (1) 12V, 35 amp-hr Maintenance-Free, operates for 10 hr w/250 lb payload |
| Battery Charger | 4, 6, 7 and 12 Amp On-Board Universal AC Input Smart Charger Options | 7 Amp On-Board Universal AC Input Smart Charger |
| Dimensions | 58 in (147 cm)Long x 27 in (69 cm) Wide x 36 in (91 cm) Tall | 56.8 in (144 cm) Long x 25 in (64 cm) Wide x 35 in (89 cm) Tall |
| Frame | 1″ Welded Steel Tube w/Full Steel Body Pan, Integral Rear Bumper | 1″ Welded Steel Tube w/Full Steel Body Pan, Integral Rear Bumper |
| Safety | Automatic Dynamic Braking, Circuit Breaker Overload w/Automatic Reset | Automatic Dynamic Braking, Circuit Breaker Overload w/Automatic Reset |
| Basket | 6,400 cu in (104,877 cu cm) | 6,400 cu in (104,877 cu cm) |
| Seat | 18 in. PVC-free armless* puncture-resistant, heavy duty vinyl, padded seat *arm rest optional | 18 in. PVC-free armless* puncture-resistant, heavy duty vinyl, padded seat *arm rest optional |