Smart:System | Next Generation Order Fulfillment Solutions
Bridging the Gap Between Manual Processes & Full Automation
---
We believe the smartest solution to a problem is usually the simplest one, which is why we designed the Smart:System – an intuitive, competitive solution to streamline warehouse, DC & 3PL logistics and transform almost any store into a highly efficient click and collect location.
The Smart:System combines the Smart:Drive, a compact power assist that is designed to tuck under & instantly hitch with the Smart:Rack, a configurable order fulfillment or restocking cart – creating an ergonomic and drivable solution for market aisle pick and pack, or DC order picking. Whether your strategy is fulfilling from a DC or using your existing infrastructure to deliver goods the last mile, the Smart:System bridges the gap between manual processes and full automation, to optimize your infrastructure and enable efficient order fulfillment.
---
This cobot system delivers the best of automation and human power, reducing the stress of labor-intensive order picking and creating a streamlined and versatile fulfillment process.
---
---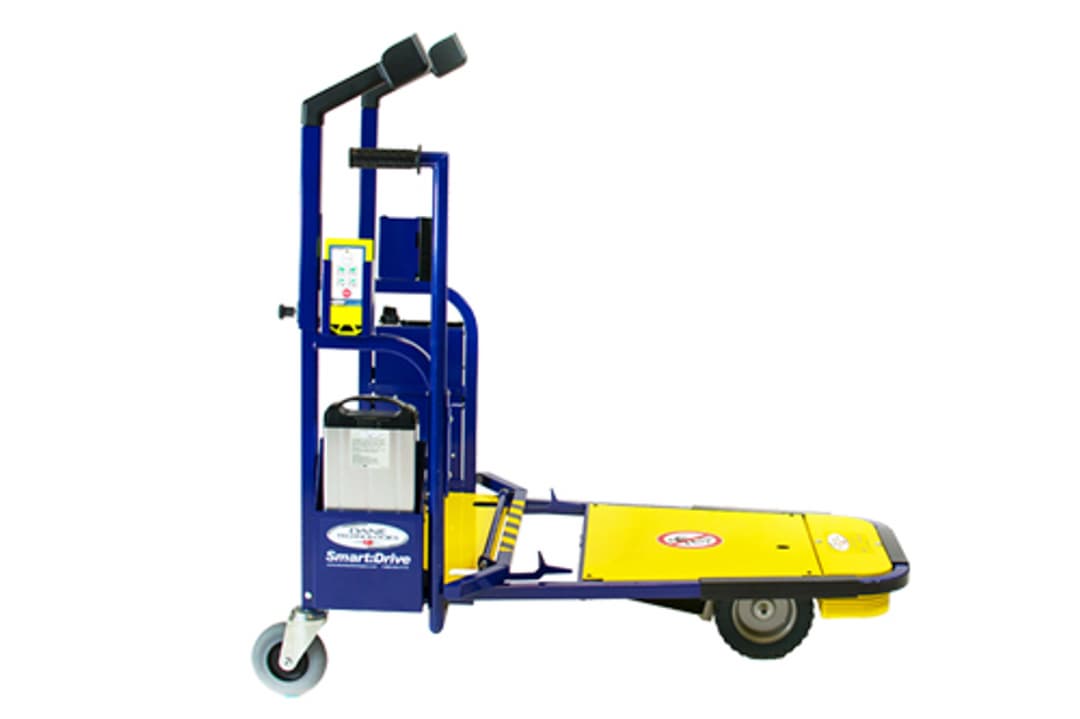 The Smart:Drive
The first of its kind, the Smart:Drive is a multi-use, low profile power drive system. Designed to tuck under & securely hitch with carts & trolleys – The Smart:Drive transforms your fleet of manually propelled carts into powered carts at a fraction of the cost. With instant hitching and fast foot pedal release your team has the ability to ride, drive & guide heavy carts safely & efficiently for effortless materials handling.
Learn More
Quick Facts
450 Watt Motor 440 lb (200 kg) Capacity (Optional 650W & 1000W)
Attaches to Multiple Flatbeds, Trolleys & Carts
Fully Programmable with 0-4.25 mph (0-7 kph) Forward, or 0-2.2 mph (0-3.5 kph) Reverse Operation
Quick-Swap Lithium Battery Pack
Optional Ride On Sulky
Dual Ergonomic Throttle Controls
Intuitive Operation & Integrated Safety
Instant Hitching & Fast Release Foot Pedal
---
The Smart:Rack
The Smart:Rack is a high volume order picking & replenishment solution designed to increase the efficiency of order fulfillment and replenishment tasks, while decreaseing the risk of strain related injury. Designed with a heavy duty steel frame, and adjustable shelves, the Smart:Rack is the only pick & pack solution with mid wheel, dual drive maneuverability. The Smart:Rack features include instant hitching, interchangeable rack space & overhead storage.
Learn More
Quick Facts
Smart:Rack 1500 & 900 Models Available
Four High-Capacity Fast-Adjustable Shelves (1.7 m3) of Storage (Smart:Rack 1500)
600 lb Weight Capacity (300kg)
Center Guide Wheel for Exceptional Tracking & Maneuverability
Built in Bin Storage (Smart:Rack 1500)
Guide Wheels Retract Automatically with SD Connection or with Foot Pedal
Bi Directional Integrated Hitch System with SD Optional Train Hitch
Optional Vertical Storage System
---
Smart:Drive
The Smart:Drive powers the Smart:System as a multi-use, independent platform. Quality design specifications include a high capacity electric motor rated for 440 lb continuous load, custom transaxle, and a swappable power source. Market-leading safety features include programmable current control, remote operation, keypad lock/unlock, and Automatic Dynamic Braking. When operating independently of the Smart:System, the Smart:Drive is designed to safely maneuver up to 20 flatbed carts or trolleys while increasing flatbed cart return productivity 100%. Available attachments allow the Smart:Drive to push or pull almost any wheeled load, and for further efficiency returns, an optional ride-on platform can be utilized independently or with the Smart:System. When the Smart:Drive is combined with the Smart:Rack, the Smart:System delivers outstanding safety and productivity returns in streamlined order fulfillment.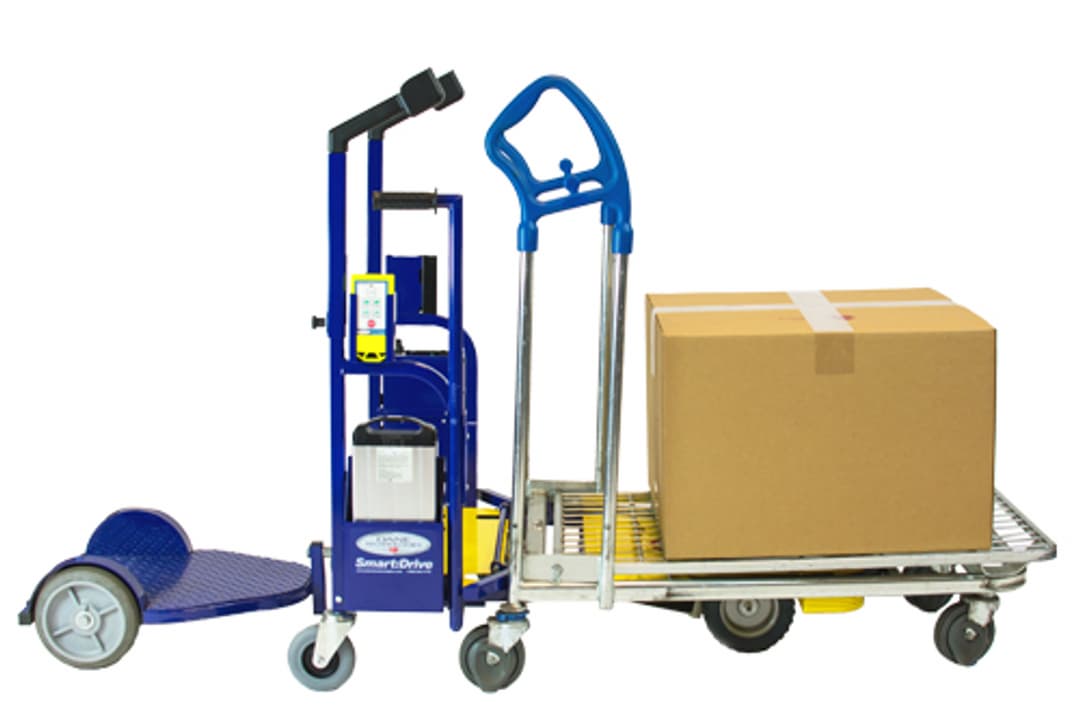 ---
Drive
Standard walk-behind configuration allows the operator to easily connect to and move carts up to 440 lbs (200 kg). Eliminate the risk of strain related injury and increase productivity instantly
450 Watt Motor 440 lb (200 kg) Capacity
Attaches to Multiple Flatbeds, Trolleys & Carts
Fully Programmable Speeds From 0-4.25 mph (0-7 kph), 0-2.2 mph (0-3.5 kph) Reverse Operation
Quick-Swap Lithium Battery
Ride
The optional sulky attachment allows operator to ride behind the Smart:Drive, reducing fatigue and increasing productivity. Intuitive steering and ergonomic controls make managing carts & trolleys effortless.
Dual Ergonomic Throttle Controls on Height Adjustable Handles
Quick Attach Sulky Platform
Hi Lo Switch for Programmable Speed
Auto Hitching with Quick Release Pedal
Integrated Safety Features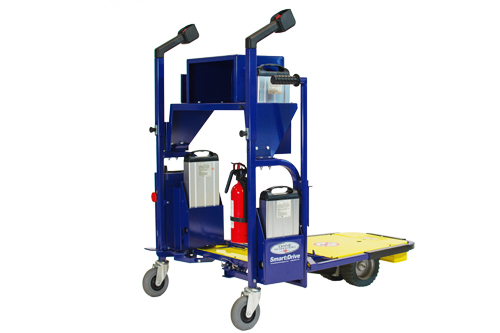 Customize
The Smart:Drive DC delivers everything you need to power your order fulfillment process; including: monitors, scanners, and printers. Quick-Swap lithium battery packs keep the Smart:Drive DC delivering maximum efficiency 24/7
Customize the Smart:Drive to Meet Your Needs
Wifi Enabled Monitor, Scanner & Printer
Quick-Swap Lithium Batteries (14 Ah, 20 Ah)
On-Board Self Diagnostics System & Premium Service Tutorials
---
Smart:Rack
The Smart:Rack is an ergonomic trolley designed to increase efficiency of order fulfillment and replenishment tasks, while decreasing the risk of strain related injury. Key features include our unique center guide wheel system, that enables a minimum turning radius. The guide wheels automatically disengage when coupled with the Smart:Drive, or they can be manually raised enabling easy positioning via four swivel casters.
---
Smart:Rack 1500
The Smart:Rack 1500 is our large order picking and replenishment solution for use in warehouses & distribution centers. Unique center guide wheels deliver exceptional maneuverability and ergonomics for streamlined order fulfillment.
64″ x 30″ x 58″ | 660 lb/330 kg Capacity | 60 cu. ft/1.7 cu. m
4 High Capacity, Fast Adjustable Shelves
Static Dissipating Casters
Center Guide Wheel for Easy Steering & Exceptional Maneuverability
Guide Wheels Retract Automatically with SD Connection or with Foot Pedal
Integrated Safety Features
Bi Directional Integrated Hitch System with SD, Optional Train Hitch
Durable Powder Coated Finish
Remote Allows Smart:Rack to be Guided from the Front Reducing Pick Time Performance
Smart:Rack 900
The Smart:Rack 900 "Market Hall" is a compact, efficient solution for order fulfillment or replenishment in narrow aisle environments.
Smart:Rack 900: 36″ x 24″| 600 lb/300 kg Capacity| 28.5 cu ft./.82 meters
4 Fast-Adjustable Shelves
Static Dissipating Casters
Optional Vertical Rack Divider
Optional Tiller Handle
Optional Document/Clipboard Holder
Optional Vertical Storage System
Highest Quality
Heavy-Gauge Powder Coated Steel Frame; Lifetime Frame Warranty

450 Watt Electric Motor & Heavy Duty Gearbox Pushes up to 440lbs (200 kg)

CE, N136, UL-Certified SmartCharger, Optional Multi-Battery Charging Station

24 V Lithium Quick Swap Battery Pack, Virtually Eliminates Down Time

Patented Burst Mode & Thermal Protection

Ergonomic Throttle Control

Advanced Safety Features Including Automatic Dynamic Braking & Automatic Parking Brake
Exceptional Support
Dane consistently rated in top 5% of preferred vendors for outstanding service

On-board Self Diagnostics System Reduces Service Calls

24/7 Service & Support Dispatch Team & Online Tech Support

Extensive Worldwide Network of Trained Service Providers

95% Same-Day Parts Shipping

Plug & Play Electronics for Low Maintenance & Easy Service

Bar-Coded Components Linked to Serial No. for Fast Part ID & Warranty Fulfillment

Comprehensive Maintenance Management Program

Complementary Employee Training & Best Practices
Greatest ROI
Increased Productivity & Workplace Safety

Reduces Risk of Strain & Injury

Unnecessary Service Calls Eliminated

Greatest Uptime for Your Smart:Drive

Smart:System Immediately Optimizes Existing Warehouse Infrastructure for Streamlined Order Fulfillment & Inventory Management

Projected 10-Year Life Cycle Cost is Less Than Average Compensation Claim for One Strain-Related, Lost-Work Injury
---
Proven Experience: Key to Successful Implementation
Industry leading quality doesn't stop with the design of our solutions – it extends to product rollout and post-sale support. Whether you own one store or thousands, when you partner with us, we are putting 20 years of experience in tens of thousands of locations to work for you. We work together with you to understand the unique requirements of every site and collaboratively design your rollout strategy. With every sale we provide training materials, certified operators program and best practices guidelines to ensure your team achieves your productivity and safety goals.

| Item | Value | Description |
| --- | --- | --- |
| Ergonomic Thumb-trigger Throttle & Intuitive Guided Steering/td> | Dual right & left handle thumb-trigger throttle, height adjustable handles, effortless steering | Ergonomic forward/reverse & intuitive operation |
| Motor | 450 Watt electric motor | 440 lbs (200kg) Load rating |
| Patented Burst Mode & Programmable Current Control | Patented feature allows for extra power during start-up | Reduced power after start-up; protects drive train, motor & extends battery life & run time |
| Multi-Mode Operation | Manual walk behind, sulky ride on option, & radio mode | Ergonomic operational modes allow for almost any load to be managed effectively |
| Batteries | (1) 24 V, 21 A-h Lithium ion quick swap battery pack | Quick-Swap battery packs virtually eliminate down time; LED light indicates charge level |
| Smart Charging System | CE, N136, & UL-Certified Smart Charger | LED light indicates charging status, optional multi-battery charging station allows multiple battery packs to charge simultaneously |
| Electronics | Plug & play modular electronics, conformal coated molex connectors | Easy service & modular repairs, protects against moisture and vibration, easy access to connectors, spades, and lugs, no wire nuts, or soldered connections for easy maintenance |
| On-Board Self Diagnostics System | Coded maintenance & service signals | Eliminates unnecessary service trips & ensures the most uptime for your Smart:Drive |
| Patented Automatic Dynamic Braking System, Emergency Stop, and Parking Brake | Unit brakes to a stop when not under acceleration; parking brake automatically engages at rest; emergency Stop Button stops unit immediately | Enables safe handling of large loads; prevents unintentional motion due to momentum or slope |
| Wheels | Front: (2) Dual drive wheels 7 in (17 cm) solid knobby tread; Rear: (2) Casters 5 in (12.7 cm) | Durable, low Maintenance |
| Automatic Hitching System | Automatic hitching mechanisms attaches Smart:Drive to cart – foot pedal release | Fast & effortless attach and detach |
Item
Value
Description
Coded Access
Programmable key code required for use
Keypad/code restricted access prevents uncontrolled use
Overload Fuse
20 Amp auto-resetting main breaker, 3 Amp controls fuse
Protects motor, prevents unit overload, easy reset
Emergency Stop Button
Meets international safety standards,
Allows operator to stop unit quickly in case of emergency
Patented Automatic Dynamic Braking
Automatically decelerates Smart:Drive when not driving forward
Increases control of Smart:Drive operation – especially with heavy load
Parking Brake
Automatically engages when Smart:Drive stops
Increased safety, prevents roll-away
Warning Horn
Switch operation
Alerts those nearby
Battery Level Indicator
Monitors battery charge
Allows operator to monitor remaining battery capacity
Protective Handlebar Design
Ergonomic handles reduce risk of wrist injury while handlebars protect hands and operational key switch
Reduces risk of injury, damage to throttle, and inadvertent operation
Programmable Speeds
Manual Mode: Forward: 0 – 2.8 MPH max; Reverse: 0-2.2 MPH max
Radio Mode: Forward (rabbit): 2.6 MPH; Forward (turtle) 1.5 MPH
Allows Smart:Drive to be configured to application & meet workplace safety goals
Accessories & Options:
Ride On Sulky Attachment
Radio Control Package: Handheld Remote Control (with over 16,000,000 secure codes), Front Guide Handle
Styling Package: Personalized Logo, Custom Color (Minimum Quantity Applies)
Contact Us
Please fill out a form below to contact a Dane representative.