Wheelchair Mover
FDA-Approved, Power-Assisted Wheelchair Transport
---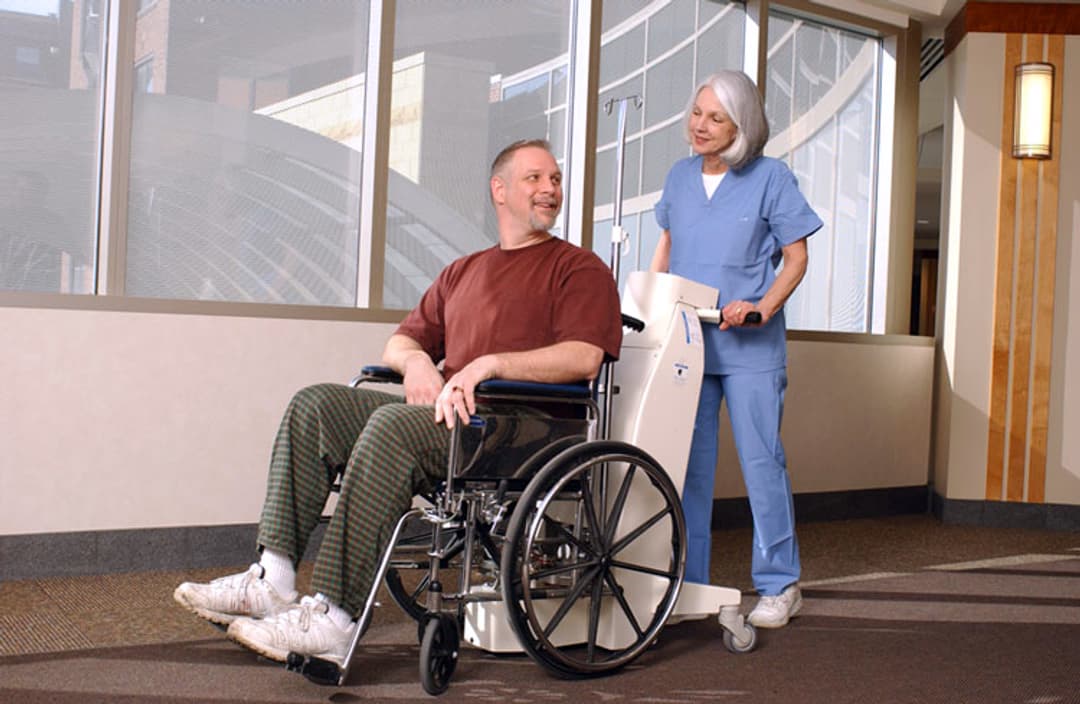 Ergologistics Meets Patient Transport
Designed in partnership with hospital safety experts, The WheelChair Mover® is the first and only FDA approved power assist wheelchair drive device, making patient transport safe, smooth and effortless. The WheelChair Mover® attaches to a variety of standard, bariatric, and staxi wheelchairs, easily transporting patients and passengers through hallways, hospitals, jetways, and long concourses while reducing potential injury and physical strain to transport personnel.
---
Simple, Secure Wheelchair Transportation
The WheelChair Mover® uses a simple hand lever design that activates secure hitching to a wheelchair's frame ensuring a controlled and gentle ride for the passenger. Ergonomic design features make it easy for the operator to maneuver the WheelChair Mover® safely with controlled acceleration, deceleration and zero turn maneuverability. Compact and quiet, the Dane WheelChair Mover® is the ideal device to fit within hospital rooms, halls or jet bridge ramps, while meeting the objectives of safe patient and passenger handling programs.
---
---
Highest Quality
First & Only FDA Approved WheelChair Power Assist

FDA 510(K) Cleared Class II Medical Device-K073701

.5 HP, 24 V, Geared Front Wheel Drive

Rated for 750 lb (340 kg) max capacity

Unit is UL-Certified (583 ES)

On-Board UL-Certified Smart Charger

(2) 12 V Maintenance-Free Batteries

White Plastic Shell Resists Rust & Wear

Patented Automatic Dynamic Braking for Safe Stopping on Ramps

Ergonomic Throttle Control

Advanced Safety Features
Exceptional Support
Dane consistently rated in top 5% of preferred vendors for outstanding service

On-board Self Diagnostics System Reduces Service Calls

24/7 Service & Support Dispatch Team

Extensive Worldwide Network of Trained Service Providers

95% Same-Day Parts Shipping

Plug & Play Electronics for Low Maintenance & Easy Service

"Birth Certificate" Links Records with Serial No. for Fast Unit ID

Bar-Coded Components Linked to Serial No. for Fast Part ID & Warranty Fulfillment

Comprehensive Maintenance Management Program
Greatest ROI
Reduces Risk of Strain & Injury

Unnecessary Service Calls Eliminated

Greatest Uptime for Your WheelChair Mover

WheelChair Mover Lifecycle Frequently Exceeds 7 Years

7-Year Life Cycle Cost is Less Than Average Compensation Claim for One Strain-Related, Lost-Work Injury
---
Proven Experience: Key to Successful Implementation
Industry leading quality doesn't stop with the design of our solutions – it extends to product rollout and post-sale support. Whether you own one store or thousands, when you partner with us, we are putting 20 years of experience in tens of thousands of locations to work for you. We work together with you to understand the unique requirements of every site and collaboratively design your rollout strategy.

Built to Fit Any Standard Wheelchair:
| Item | Value | Description |
| --- | --- | --- |
| FDA Certified | FDA 510(K) Cleared Class II Medical Device-K073701 | Highest standard in assisted mobility medical device, ensures safe & powerful operation |
| Motor | 0.5 HP 24V Geared Front Wheel Drive | Motor combines quiet operation with power & durability |
| Capacity | 750 lb (340 kg) | Ergonomic design minimizes strain-related injury |
| Patented Burst Mode & Programmable Current Control | Patented feature allows for extra power during start-up | Increased Starting Power, Reduced Power After Start-Up; Protects Drive train, motor & extends battery life & run time |
| Batteries | (2)Group 24 AGM Maintenance-Free | No maintenance batteries provide enough power for up to 34 hours continuous operation, & extend life of motor |
| Smart Charging System | 6 amp Multi-Stage: Patented, UL Certified | Extends battery life, reduces charging time; Highest standards for electronic design & safety |
| On-Board Self Diagnostics System | Coded Maintenance & Service Signals | Eliminates unnecessary service trips & ensures the most uptime for your WCM |
| Easy-Service/Maintenance Design | Electronics Housed In Body, Easy Access, | Components are housed in body; Improved durability & ease of access |
| Patented Automatic Dynamic Braking | Automatically decelerates WCM when not driving forward | Prevents unintentional movement; Eliminates rollback |
| Controls | Ergonomic Design | Ergonomic design decreases risk of injury and strain |
| Key Switch | Side Mounted | Eliminates Unauthorized Use |
| Throttle | Forward/Reverse, Wig-Wag Throttle Control | Throttle design allows minute control over acceleration and direction of movement |
| Tires | Non-marking solid rubber | Drive tires and rear casters require little maintenance |
| Speed | Max Forward: 4 km/hr (2.5 mph); Max Reverse: 2.6 km/hr (1.6 mph) | Allows patients to travel at leisurely walking pace up ramps and on carpets |
| Wheelchair Accommodations | Standard & Bariatric Sizes Available | Fits standard & bariatric wheelchair sizes 18-30 in width |
| Item | Value | Description |
| --- | --- | --- |
| FDA Certified | FDA 510(K) Cleared Class II Medical Device-K073701; GSA Schedule 6511F, Contract V797P-31838M | Highest standards in assisted mobility medical device, ensures safe & powerful operation |
| Auto Safe Start | Programmed delay in throttle | Prevents unintentional movement; Ensures safe transportation |
| Patented Automatic Dynamic Braking | Automatically decelerates WCM when not driving forward | Automatically decelerates WCM when not driving forward |
| Warning Beeper | Warning sound activated by beeper button | Alerts those nearby to prevent collision |
| Emergency Stop Button | Intuitive Placement, Robust Design, | Allow operator to stop unit quickly in case of emergency |
| Controls | Ergonomic Design | Ergonomic design decreases risk of injury and strain |
Insert catalog of replacement parts/specs