Compact, Industrial Strength Mini Tugger
Big Power For Small Spaces: The PowerPal 1000
With 7,000 lb (3,178 kg) of towing capacity, the PowerPal 1000 protects your valuable personnel from strain-related injury. Designed to easily and quietly navigate any workplace environment, the PowerPal 1000 pushes and pulls case carts, hospitality and service equipment, medical equipment, food trolleys, or almost any wheeled cart. Compact ergonomic design and dual-mode tiller steering allow nearly everyone to move heavy loads safely and easily without the risk of strain or injury.
The PowerPal 1000 adapts to almost any cart with no special attachments, and a wide variety of Dane hitching options are also available to make moving almost any wheeled cart or container possible.
Contact Us
View All Industrial Tugs
PowerPal 1000 Mini Tug Built for Flexible Indoor Towing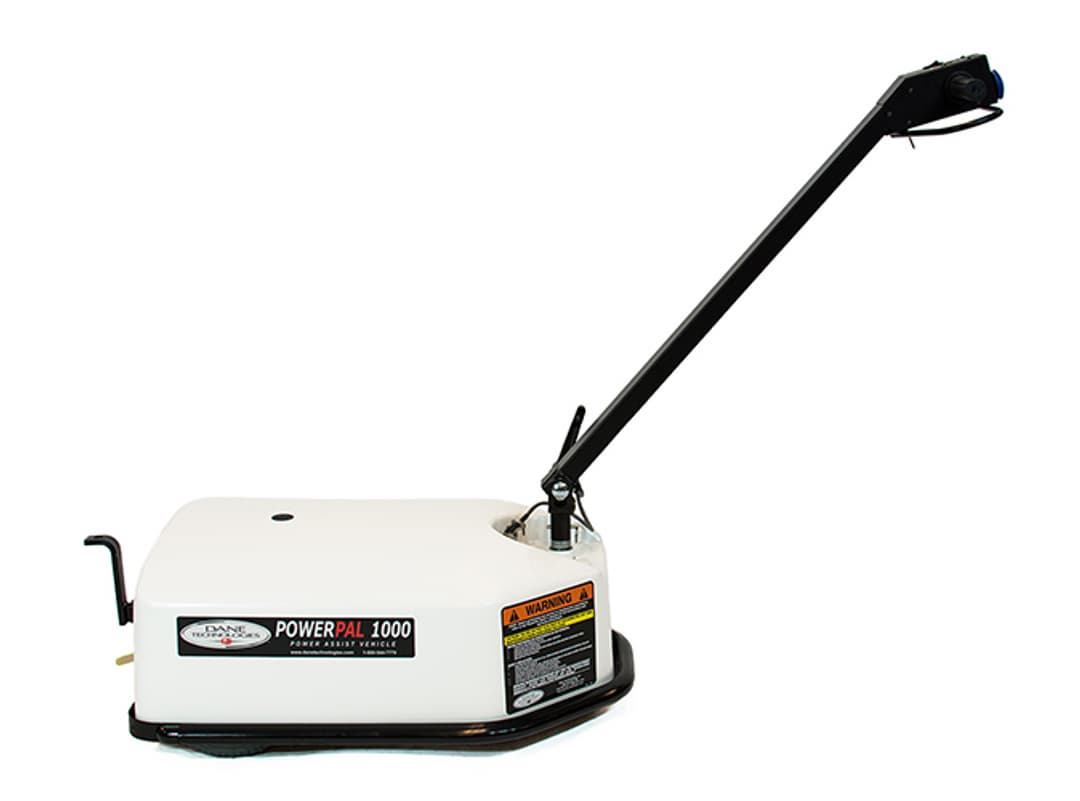 Features
450 W .6 HP Continuous Duty Motor 7,000 lb (3,178 kg) Capacity
Compact Maneuverability for Hallways & Tight Spaces
12 Hours Continuous Use on a Single Charge
Floor Friendly No-Mar Filled Tires
Whisper Quiet Operation
Flexible Hitching Options
Advanced Safety Features
---
Whisper Quiet Indoor Towing
The PowerPal 1000 is purpose engineered for any workplace–with no-mar tires & whisper quiet operation especially designed for safety in high traffic spaces.
Hospitals: Tow Medical Equipment, Surgical Case Carts, Laundry Carts
Hospitality: Laundry Carts, Cleaning Equipment, Supply & Restocking Carts
Airports: Tow Luggage Carts, Food & Beverage Restocking
Compact & Efficient Design
Low profile, compact design with ergonomic steering tiller makes any material handling task simple, intuitive & reduces the risk of strain or injury.
Spring-Loaded Tiller Handle Adjusts to a Comfortable Operating Level for Any Height & Swings in an Arc of 90 Degrees
Small Turning Radius Maximizes Forward/Reverse Maneuverability in Tight Spaces
Life Cycle Cost is Less Than the Average Compensation Claim for one Strain-Related Injury
Flexible Hitching Options
A wide variety of hitching options will accommodate most cart or trailer configurations–allowing you to move almost anything safely & easily.
Spring-Lift Hitch
"L" Hitch
Swivel & Latch Hitch
Please Contact our Team with Any Questions About Finding the Best Configuration that will Work for You
---
Powerful Performance
Purpose Designed Mini Tug for any Workplace
450 Watt 0.6 HP Continuous Duty Motor
7,000 lb (3,178 kg) Capacity
On-Board 6 Amp @ 24 VDC Series-Balanced Smart Charger
Battery Life Maximizer: Maintenance Charge Mode & Automatic Shut OFF
2 Maintenance-Free Deep Cycle 12 Volt Batteries
12 Hours Continuous Use on a Single Charge
Heavy-Gauge Steel Frame; Lifetime Frame Warranty
White Plastic Hood Resists Rust & Wear
PowerPal 1000 Lifecycle Frequently Exceeds 10 Years
Intuitive Controls
Spring-Loaded Ergonomic Tiller Steering
Protective Handlebar Design
Twist Grip Throttle Forward/Reverse
Highly Maneuverable in Forward & Reverse
Programmable Speeds
Rabbit/Turtle Speed Mode Switch
Battery Level Meter & Status Light
Manual Brake Release
Hitching Options Connect to any Wheeled Cart
Integrated Safety & Maintenance Features
Key Switch Security
Emergency Stop Button
Automatic Dynamic Braking
Automatic Parking Brake
Floor Friendly No-Mar Filled Tires Mounted Inboard
Overload Protection
UL 583 ES Listed
Smart Charger is UL Recognized Standard 1564
On-board Self Diagnostics System Reduces Service Calls
Plug & Play Electronics for Easy Maintenance
Comprehensive Maintenance Management Program
Complementary Employee Training & Best Practices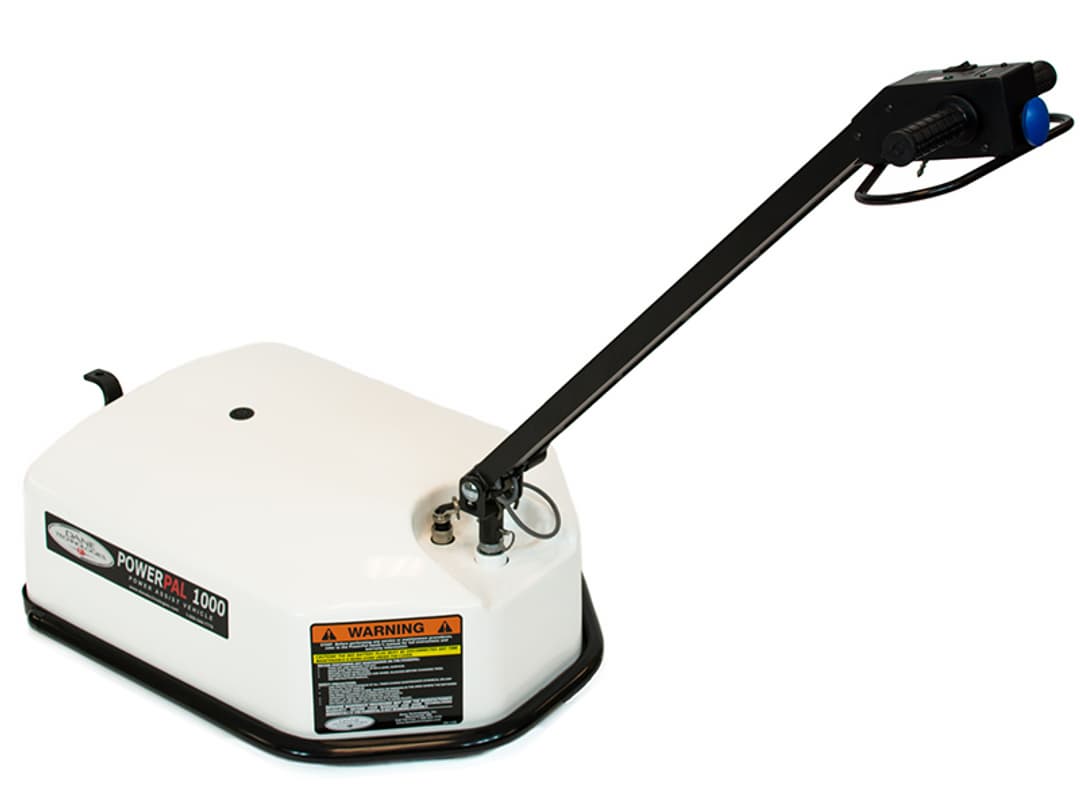 Specifications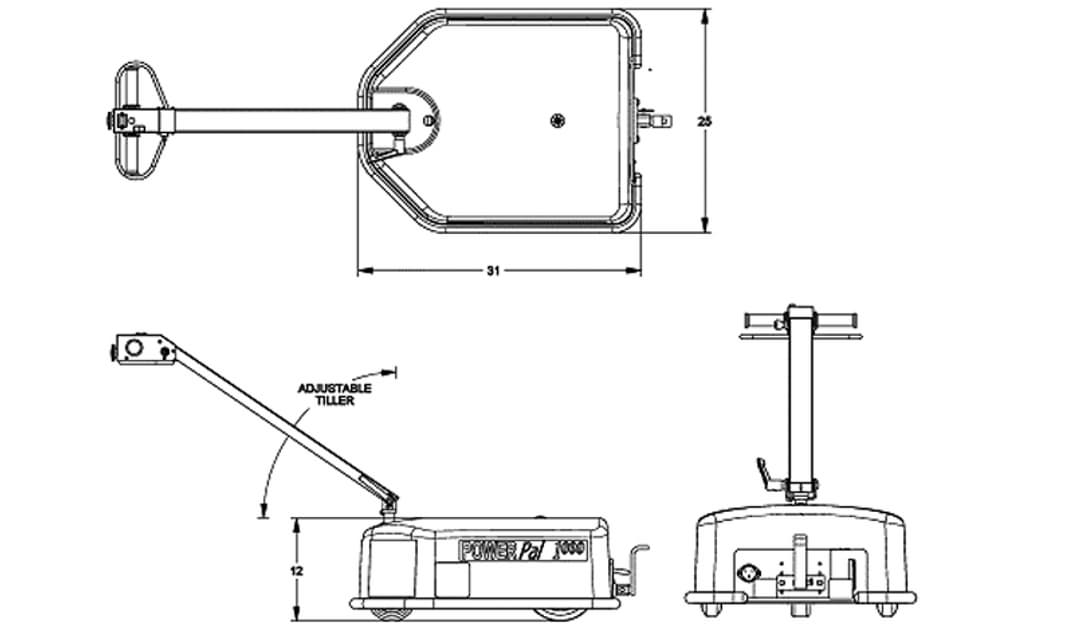 Compact Towing Solution
Combining a 0.6 HP motor on a highly maneuverable platform with a whisper-quiet battery-powered drive, the PowerPal 1000 is engineered to increase safety and productivity while easily navigating tight spaces. The tiller handle is spring-loaded to adjust to a comfortable operating level for various height ranges and will swing to an arc of 90 degrees. The PowerPal 1000 will operate continuously for 12 hours on a single charge, and its on board 6-amp battery charger can be plugged into any 110-volt outlet or adjusted to meet the variable demand of international locations. Delivering advanced safety features such as Automatic Dynamic Braking and Burst Mode, the PowerPal increases the safety and productivity of your workplace.
Features
| Item | Description | Value |
| --- | --- | --- |
| Motor | 450 W, 0.6 HP with whisper quiet drive | 7,000 lb (3,178 kg)* Efficient permanent magnet motor; long brush-life; whisper quiet operation integrates into professional work spaces *under ideal surface conditions |
| Patented Burst Mode & Programmable Current Control | Patented feature allows for extra power during start-up | Reduced power after start-up; protects drive train, motor & extends battery life & run time |
| Cover | High impact plastic cover | Impact/Rust resistant; keeps PowerPal 1000 looking better longer |
| Chassis | Welded heavy-gauge steel with powder coating | Lifetime Frame Warranty; rust, damage, and moisture resistant; protects internal components |
| Batteries | (2) 12V Maintenance-free deep cycle | Long-life batteries 12 hours continuous use on one charge |
| Smart Charging System | On Board 6 Amp @ 24 VDC UL certified smart charger | Automatic shut off, maintenance charge mode, & battery life maximizer |
| Electronics | Plug & play modular electronics, conformal coated molex connectors | Easy service & modular repairs; protects against moisture and vibration; easy access to connectors, spades, and lugs; No wire nuts or soldered connections for easy maintenance |
| On-Board Self Diagnostics System | Coded maintenance & service signals | Eliminates unnecessary service trips & ensures the most uptime for your PowerPal 1000 |
| Easy-Service/Maintenance Design | Electronics housed in body, easy access with removable cover | Protected from environment; motor & transaxle can be serviced without removing batteries |
| Dynamic Braking | Electrically or manually applied | Maximum control operating PowerPal 1000 |
| Control Panel | Resilient features, status lights, ergonomic design | Intuitive, & damage resistant; easier to operate, troubleshoot & repair |
| Key Switch | Side mount | Protected by handlebar design; maximized security |
| Throttle | Twist-grip throttle, ergonomic & intuitive | Can operate unit from either side, extremely durable |
| Tires | No-Mar high-density rubber | Durable, low-Maintenance, smooth, & whisper quiet; low clearance for maximum pedestrian safety |
| Multiple Hitch Attachments | Allows for different configurations, can tow almost any cart type | Easy to use; allows movement of various wheeled loads |
Safety Features
| Item | Description | Value |
| --- | --- | --- |
| Certifications | PowerPal 1000: UL Standard 583 Listed; Smart Charger: UL Standard 1564 | Highest industry standards component quality & safety |
| Programmable Speeds | Standard settings: Forward: 0 – 3.2 mph (0 – 5.1 kph); Reverse: 0 – 1.7 mph (0 – 2.7 kph) | Ensures predictable control for operator |
| Emergency Stop Button | Intuitive placement, robust design, | Allows operator to stop unit quickly in case of emergency |
| Patented Automatic Dynamic Braking | Automatically decelerates PowerPal 1000 when not driving forward | Increases control of PowerPal 1000/td> |
| Overload Current Protection | Automatic shutdown when PowerPal 1000 is overloaded | Protects PowerPal 1000 from damage |
| Parking Brake | Automatically engages when PowerPal 1000 stops | Prevents rollaway & accidental motion |
| Battery Level Indicator | Monitors battery charge | Allows operator to monitor battery charge level |
| Protective Handlebar Design | Ergonomic handles reduce risk of wrist injury while handlebars protect hands & operational key switch | Reduces risk of injury, & inadvertent operation |
---
Contact Us
Proven Experience: Key to Successful Implementation
Industry leading quality doesn't stop with the design of our solutions – it extends to product rollout and post-sale support. Whether you manage one site or thousands, when you partner with us, we are putting 20 years of experience in tens of thousands of locations to work for you. We work together with you to understand the unique requirements of every worksite and collaboratively design your rollout strategy. With every sale, we provide training materials, a certified operators program, and best practices guidelines to ensure your team achieves your productivity and safety goals. Contact us to learn more.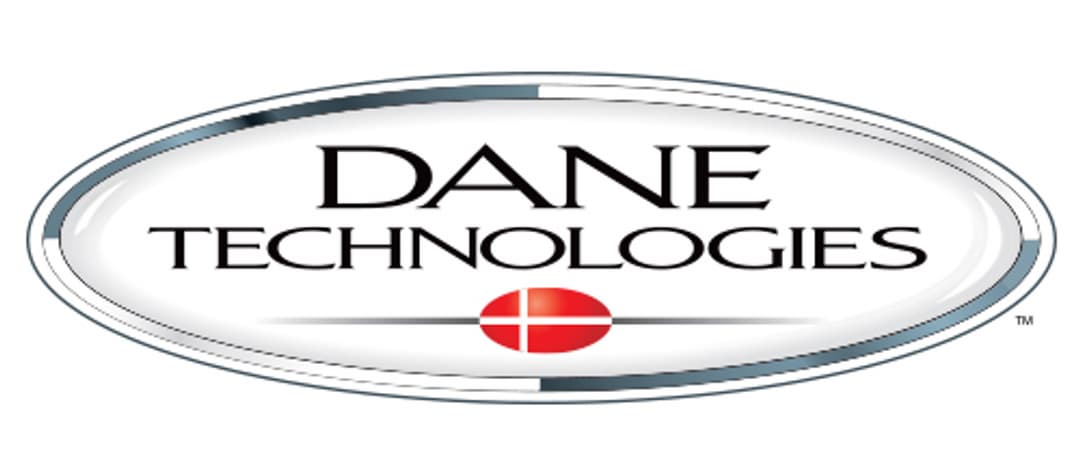 Contact Us