Shopping Cart Retriever and Trolley Collection
With over 200 million hours of operating time the QuicKART® M3 cart pusher is the proven solution for shopping cart return. Over the years we listened to our partners and clients to engineer the QuicKART® M3 series with the full range of features and functionality most requested by leading retailers.
---
QuicKART® M3 Cart Pusher Series
QuicKART M3
QuicKART M3 HD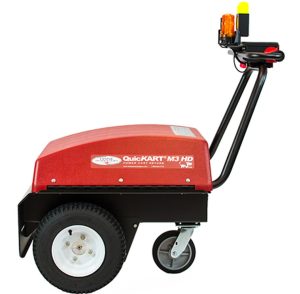 Proven Results:
30 Cart Capacity
100% Productivity Increase
36-60 Hours Saved Per Week
6 Months Avg. Time to Full ROI
$20,000 Saved/Year
$1.7 Million Sales Equivalent on Avg.
Compare Models
Contact Us
Power Shopping Cart Return
The QuicKART® M3 cart pusher easily maneuvers a nested chain of up to 30 shopping carts through the parking lot, returning carts quickly and efficiently to the store collection point. A QuicKART® increases shopping cart return productivity by 100%, ensuring that your guests always have a shopping cart–even at the busiest times.

Increase Productivity and Reduce Risk
Easy-to-use operating features allow almost any employee to with basic training to safely operate a QuicKART®, and independently manage trolley collection. Power assist technology and ergonomic design protect employees from strain related injuries normally associated with manual cart collection, while simultaneously improving parking lot efficiency and perception.
Increased productivity combined with substantial savings from fewer job-related injuries makes the proven value of the QuicKART® M3 impossible to ignore… $20,000 saved every year for each store that uses a QuicKART®. With this value proposition, most stores recover their initial investment in 6 months or less.
Conservatively, a lost-time injury sustained from returning carts manually will result in at least $12,000 in workers' compensation costs.
Preventing these injuries results in savings that go directly to the store's bottom line – at a 2% margin, that's equivalent to $600,000 in sales.
---
Industry Leading Features & Performance
Powerful Performance
Standard 1.38 HP4-Pole (1000W) Continuous Duty Motor
Heavy Duty 1.75 HP 4-Pole (1120W) Continuous Duty Motor
3 Group 31 Maintenance Free Deep Cycle 12 Volt Batteries
On Board 16 amp @ 36VDC Smart Charging System (Includes Automatic Shut Off & Maintenance Charge Mode)
Up to 12 Hours Continuous Use on a Single Charge
Burst Mode Technology for Exceptional Performance
Manual & Radio Mode Operation
Range of Hitching Options Connect to Any Shopping Cart or Trolley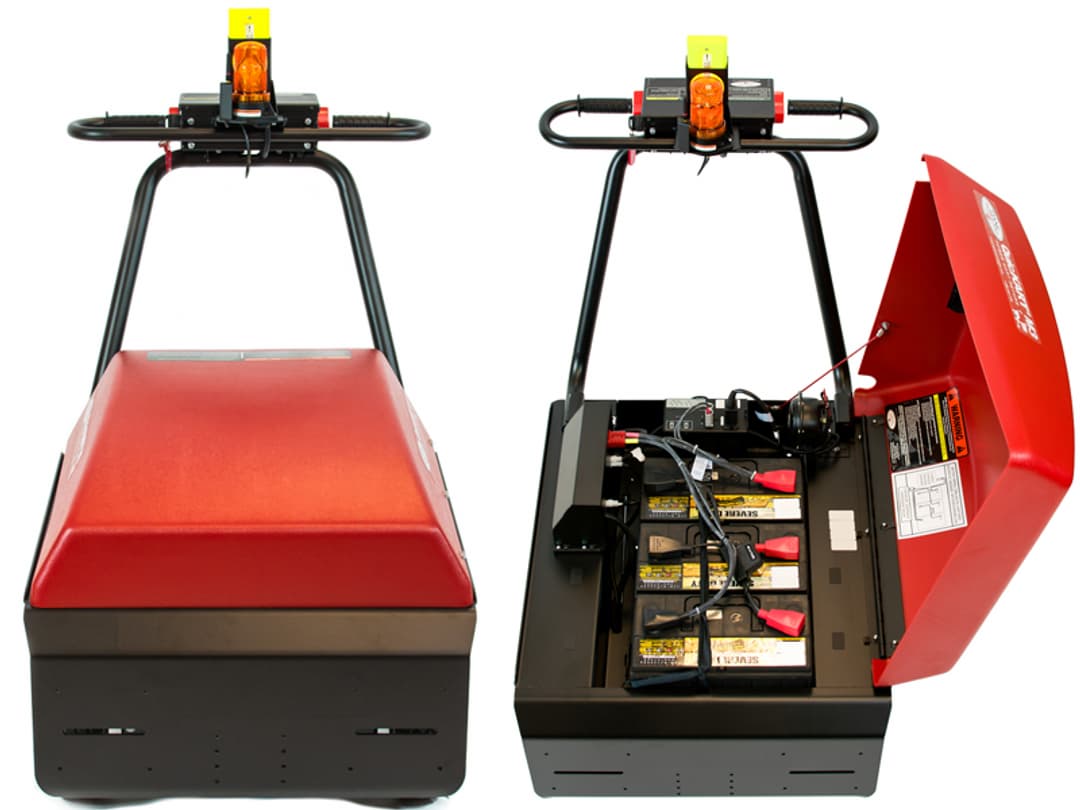 Best In Class Design & Controls
Protective Handlebar Design
Ergonomic Thumbwheel Throttle
Programmable Speeds
Battery Level Meter Check
Key Switch Security
Integrated Safety Features
Safety Beacon Strobe Maximizes Visibility
Remote Holder Shields Operator From Strobe During Manual Operation
Robust Emergency Stop Button
Automatic Dynamic Braking & Automatic Parking Brake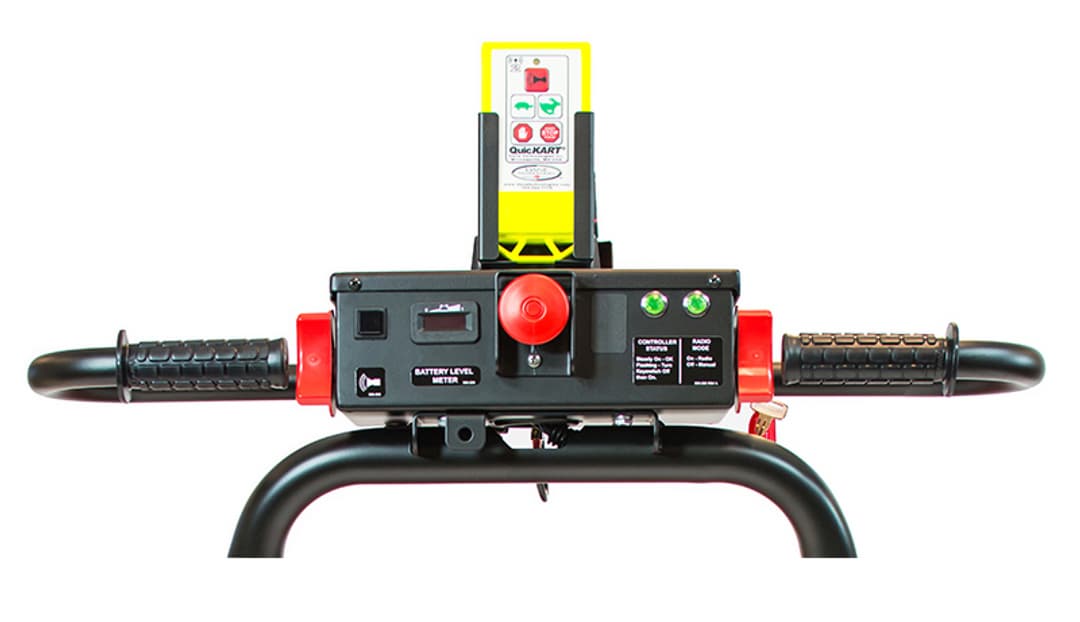 Preferred Features & Performance
Plug & Play Electronics
Weather Resistant Connectors
Onboard Self Diagnostic System
Impact Resistant Hood Opens From Side for Quick & Easy Service
Custom Built Waterproof & Impact Resistant Remote Control
Remote Electronics Isolated From Battery Components (Runs on 4 AA Batteries)
Remote Features Over 16,000,000 Security Codes
Programmable Speeds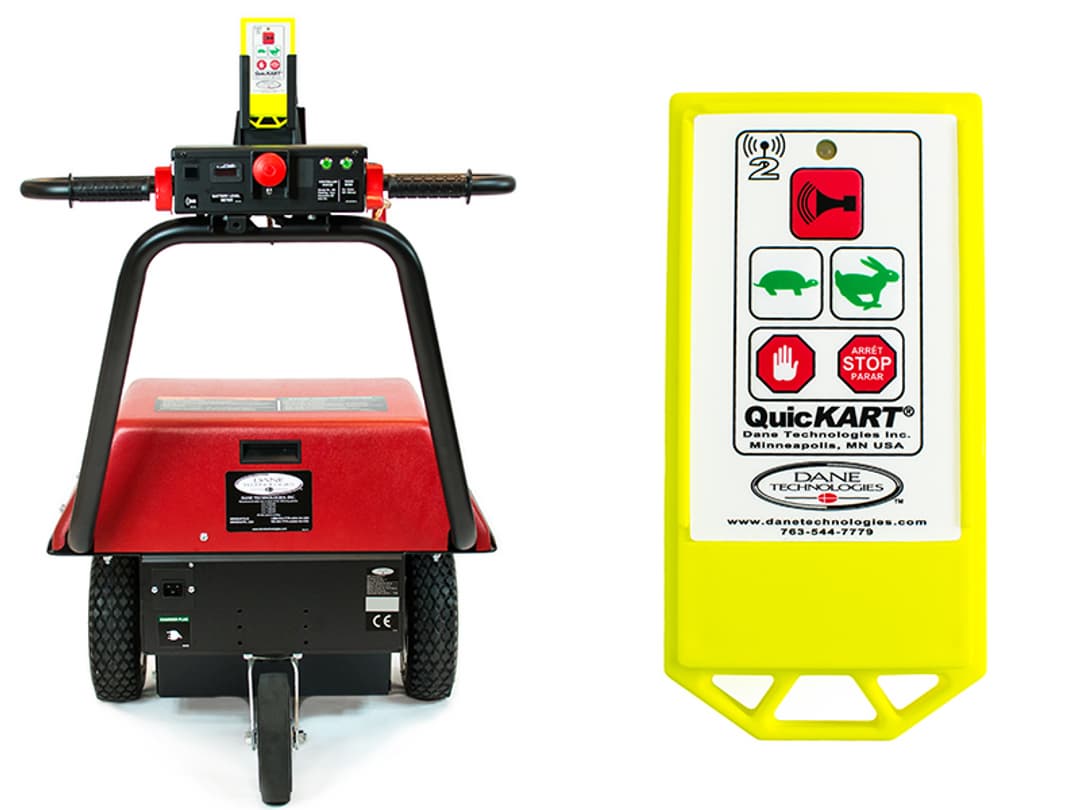 ---
QuicKART® Models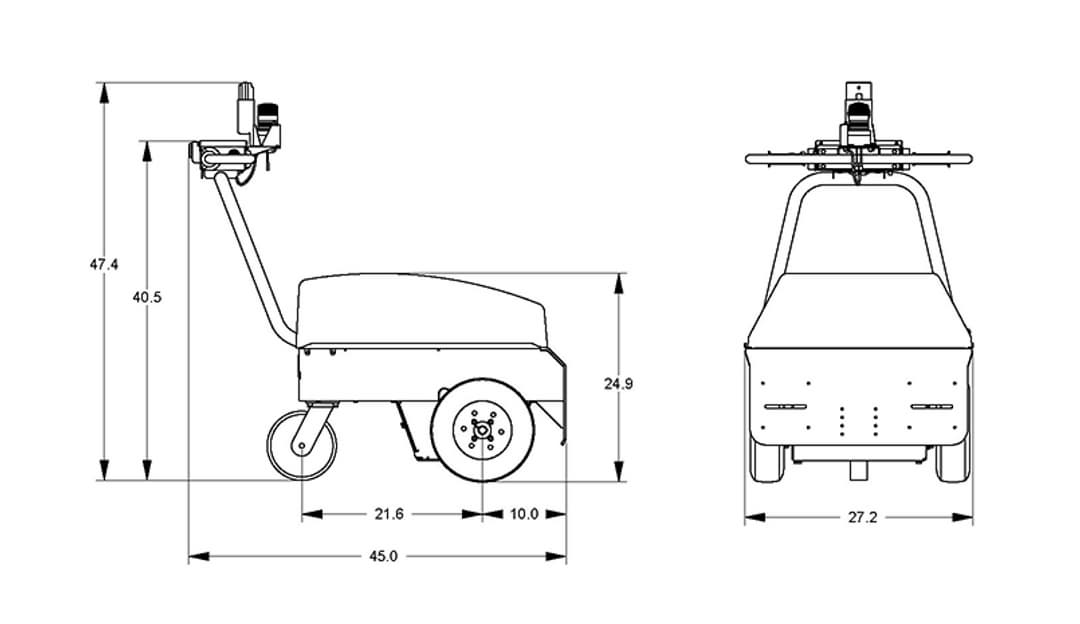 QuicKART® M3
The 3rd generation of the QuicKART®, the M3 delivers the most advanced features in cart management. The M3 safely and easily moves 30 nested shopping carts with a single operator, increasing productivity of cart retrieval by 100% while reducing risk and injury.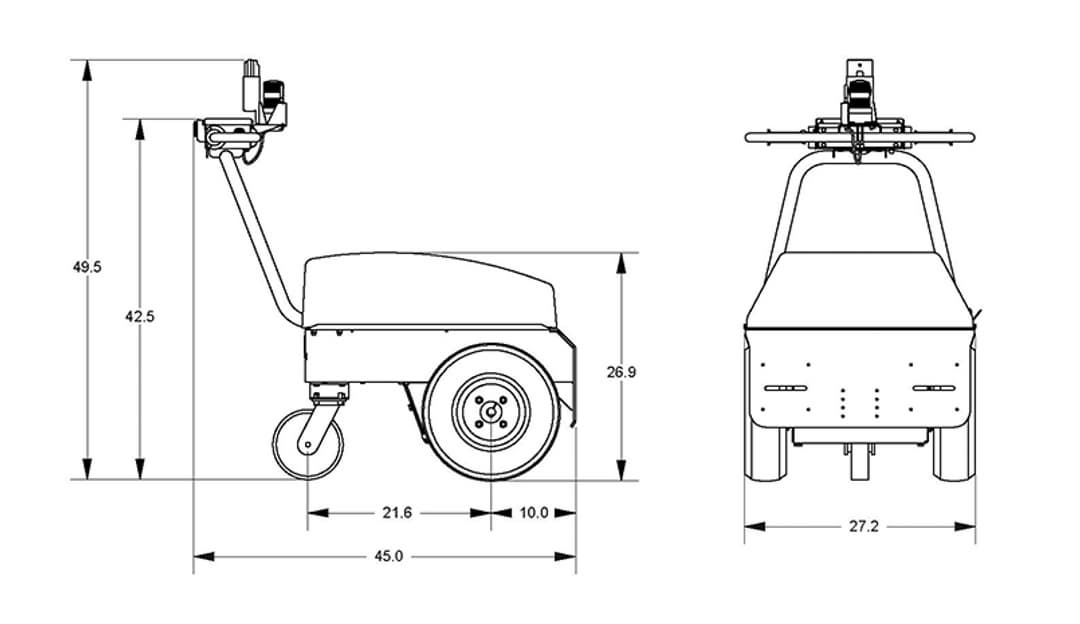 QuicKART® M3 HD
The QuicKART® M3 HD is the high capacity, heavy duty, all-weather cart pusher designed for heavy duty carts & high volume stores. The M3 HD is designed to optimize cart control and productivity under extreme conditions.
| | | |
| --- | --- | --- |
| Specification | QuicKART® M3 | QuicKART® M3 HD |
| Motor | Electric 1.38 HP 4-pole (1000W) | Electric 1.75 HP 4-pole (1120W) |
| Capacity | 30 Shopping Carts | 35 Shopping Carts with better handling in extreme weather and surface conditions |
| Batteries | (3) Group 31 Maintenance-Free 105-Ah Capacity | (3) Group 31 Maintenance-Free 105-Ah Capacity |
| Battery Life | 12 hours Continuous Output | 12 hours Continuous Output |
| Transaxle Torque | 1,100 in.-lb Continuous, 1,400 in.-lb Peak | 1,820 in.-lb Continuous, 2,143 in.-lb Peak |
| Tires | Front: (2) 12 in. Solid Knobby Tread; Rear: 8 in. x 12 in. Solid Swivel Caster | Front: (2) 16 in. Foam-Filled Knobby Tread; Rear: 8 in. x 12 in. Solid Swivel Caster |
| Hood Material | Impact-Resistant ABS Plastic | Impact-Resistant ABS Plastic |
| Throttle | Hall-Effect Style, Forward/Reverse with Spring-Return to Neutral | Hall-Effect Style, Forward/Reverse with Spring-Return to Neutral |
---
Why Choose a QuicKART®
Built to Outperform the Competition
Most Powerful Motor In Class
Patented Burst Mode & Programmable Current Control (Reduced power after start-up; protects drive train, motor & extends battery life & run time)
(3) Group 31 Batteries (120 Ah) (vs. 3 Group 29 Batteries from closest competitor)
On-Board UL-Certified Smart Charger (48 amps) (vs. 30 amps from closest competitor)
Most Extensive Warranty in Cart Return
Many QuicKARTs in Use for Over 12 Years
Smart Design Features
Weather Resistant Connectors
Impact Resistant Hood Opens From the Side for Easy Access
Modular Components Easily Replaced
Integrated Safety Features Don't Interfere with Performance (Remote Holder Shields Operator from Strobe During Manual Operation)
Robust Components, & Intelligent Design Prevent Damage
Ergonomic Throttle Design Reduces Wear & Tear on Potentiometers
Custom Waterproof, & Impact Resistant Remote Control
---
Exceptional Service
On-board Self Diagnostics System Reduces Service Calls
95% Same-Day Parts Shipping
Plug & Play Electronics for Low Maintenance & Easy Service
"Birth Certificate" Links Records with Serial No. for Fast Unit ID & Efficient Support
Bar-Coded Components Linked to Serial No. for Fast Part ID & Warranty Fulfillment
Comprehensive Maintenance Management Program
Complementary Employee Training & Best Practices Program
Dane Consistently Rated in Top 5% of Preferred Vendors for Outstanding Service
Contact us to learn more about our diagnostic service support kit and digital library of service support videos!
---
Product Features & Specifications
Best-In-Class Features
| Item | Description | Value |
| --- | --- | --- |
| Motor | 36 Volts DC, 1000 W, 1.38 HP continuous duty rating 4-Pole drive motor | Efficient permanent magnet motor; long brush-life |
| Patented Burst Mode & programmable current control | Patented feature allows for extra power during start-up | Reduced power after start-up; protects drive train, motor & extends battery life & run time |
| Transaxle | Heavy duty, next generation & purpose-designed for cart collection | Superior bearings & gears to withstand the rigor of cart collection Torque: 1,100 in.-lb Continuous (6,160 cm-kg), 1,400 in.-lb Peak (7,840 cm-kg) |
| Hood | High impact ABS plastic, easily opens from the side | Impact/rust resistant-keeps QuicKART® looking better longer, quick maintenance access – no need to unhitch to look inside |
| Chassis | Welded heavy-gauge steel with powder coating | Lifetime frame warranty; rust, damage, and moisture resistant |
| Batteries | (3) Group 31 maintenance-free deep cycle 105 A-h capacity | Long-life batteries 12 hours continuous use on one charge, 8hrs required to achieve full charge |
| Smart Charging System | On board 16 amp @ 36VDC (48 amp @12 Volt equivalent) series-balanced Smart Charger | Automatic shut off, maintenance charge mode, & battery life maximizer |
| Electronics | Plug & play modular electronics, conformal coated molex connectors | Easy service & modular repairs, protects against moisture and vibration, easy access to connectors, spades, and lugs, no wire nuts, or soldered connections for easy maintenance |
| On-Board Self Diagnostics System | Coded maintenance & service signals | Eliminates unnecessary service trips & ensures the most uptime for your QuicKART® |
| Easy-Service/Maintenance Design | Electronics housed in body, easy access, | Protected from weather, motor & transaxle can be serviced without removing batteries |
| Brakes | Spring applied, electrically or manually applied | Maximum control operating QuicKART®, prevents unintentional motion |
| Best In Class Control Panel | Resilient features, status lights, ergonomic design | Intuitive, damage & weather resistant, outperforms the competition |
| Key Switch | Side mount | Protected by handlebar design, eliminates moisture intrusion |
| Throttle | RH Thumbwheel throttle bi-directional, ergonomic, & intuitive | Can operate unit from either side, extremely durable, no mechanical parts, solid state position sensor, unique radio security code |
| Beacon/Electronics | No RF electronics in beacon head | RF electronics protected from weather; lower cost of replacement |
| Control Panel Status Lights | Controller & RF status on control panel | Easier to operate, troubleshoot & repair |
| Best in Class Remote Control | Durable, waterproof, dynamic design, integrated safety features | Most dependable and long lasting remote in class, holder design protects user from visual interference from strobe beacon while operating – while maintaining high visibility |
| Tires | Front: (2) 12 in. (30.5 cm) solid knobby tread; Rear: 8 in. x 2 in. (20.3 cm x 5.08 cm) solid swivel caster | Durable, moderate terrain, low maintenance |
| Multiple Hitch Attachments & Adjustable Cart Cups | Allows for different configuration & multiple cart sizes | Easy to use, multiple configuration options, allows retrieval of multiple shopping cart sizes, to maximize the utility of your QuicKART® |
Safety Features
| Item | Description | Value |
| --- | --- | --- |
| Certifications | QuicKART®: Optional UL Standard 583; Smart Charger: UL Standard 1564; Remote Control: FCC & CE Approved | Highest industry standards for battery & radio component compliance |
| Programmable Speeds | Forward: 0 – 3.3 mph (0 – 5 kph); Reverse: 0 – 1.0 mph, (0 – 1.6 kph); RADIO Forward FAST: 2.7 mph (4.3 kph); SLOW: 0.8 mph (1.3 kph) | Easy to use operation, ensures predictable control for operator |
| Emergency Stop Button | Intuitive placement, robust design, | Allow operator to stop unit quickly in case of emergency |
| Patented Automatic Dynamic Braking | Automatically decelerates QuicKART® when not driving forward | Increases control of QuicKART® operation – especially when pushing a full load of carts |
| Parking Brake | Automatically engages when QuicKART® stops | Increased safety during cart collection |
| Remote Operation | Custom remote control | Allows operator to safely steer a line of carts from the front, while sending commands to the QuicKART® in the back, 100 ft range. |
| Safety Beacon | Strobe light | Maximizes visibility |
| Warning Horn | Dual actuation | Alerts those nearby |
| Battery Level Indicator | Monitors battery charge | Allows operator to monitor battery charge level |
| Protective Handlebar Design | Ergonomic handles reduce risk of wrist injury while handlebars protect hands and operational key switch | Reduces risk of injury, damage to throttle, and inadvertent operation |
Accessories & Options:
"Easy-Out" Battery Tray
Taller Safety Beacon Height
Tire Options
Styling Package: Chrome Handlebars, Hubcaps, Personalized Logo, Custom Color (Minimum Quantity Applies)
Snow Package: Foam-Filled Tires w/ Tractor Treads, Weights, Chains
Snow Plow Attachment
Specialized Cart Hitches for Pushing/Towing
Rope & Ratchet System for Securing Carts
Contact Us
Proven Experience: Key to Successful Implementation
Industry leading quality doesn't stop with the design of our solutions – it extends to product rollout and post-sale support. Whether you manage one site or thousands, when you partner with us, we are putting 20 years of experience in tens of thousands of locations to work for you. We work together with you to understand the unique requirements of every worksite and collaboratively design your rollout strategy. With every sale, we provide training materials, a certified operators program, and best practices guidelines to ensure your team achieves your productivity and safety goals. Contact us to learn more.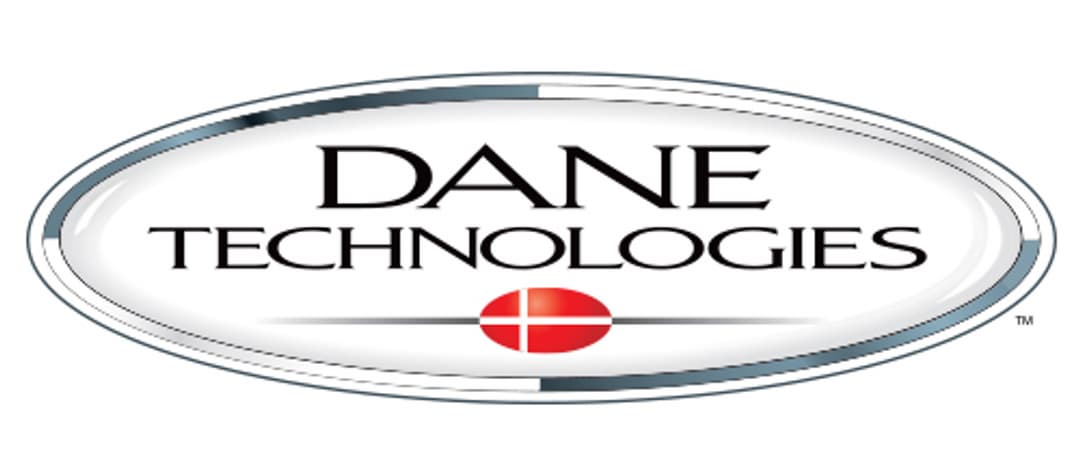 Contact Us